Are you about to click that big green "Launch project now" button on your first Kickstarter campaign?
Don't.
At least not without making sure both you, and more importantly, your audience is 100% prepared.
There's more to launching a successful crowdfunding campaign than just publishing and hoping eager backers stumble upon it. You'll want to have what is called a "pre-launch strategy" – a way of spreading the word and gathering support before your campaign is live.
That way when you do hit that big green launch button, you'll know there's already an audience waiting and ready. Consider it the equivalent of a queue of people lined up outside the doors of a grand opening.
If you'd like some hard data behind pre-launch strategies, consider this…
The largest crowdfunding pledge management company, BackerKit, ran some numbers based on the thousands of campaigns they've worked with. According to their research, a Kickstarter project with a pre-launch page set up was 4 times more likely to successfully fund than a project that didn't.
Of the people that signed up early (the ones standing in line at the grand opening) an average of 20-25% ended up pledging after the project launched.
Those results demonstrate exactly why growing your support early can pay off in a big way later on. In this article, we'll outline how you can build your own pre-launch page and some of the best methods to promote it.
What is a pre-launch page?

Put simply, a pre-launch page is a simple landing page on the web where people can learn about an upcoming project and sign up to be notified when it launches publicly. In the context of crowdfunding, this grants backers the best chance of securing early bird discounts and other perks.
Setting up a pre-launch page on Kickstarter is a simple and painless process, with only a few steps required. After a project is approved by Kickstarter's review team, creators can set up a pre-launch page from the promotion section of the project editor.
Kickstarter includes the following information regarding your project on your pre-launch page:
Your project's title and subtitle
Your project's category
Your name as the creator
Your project's location
A brief, one sentence description
You'll only get one image, so choose wisely!


Indiegogo's pre-launch page builder is significantly more robust than Kickstarter. Instead of just one sentence and an image, creators can build what is essentially a stripped down version of their full campaign page. Multiple blocks of text can be used as well as photo gallery and video modules.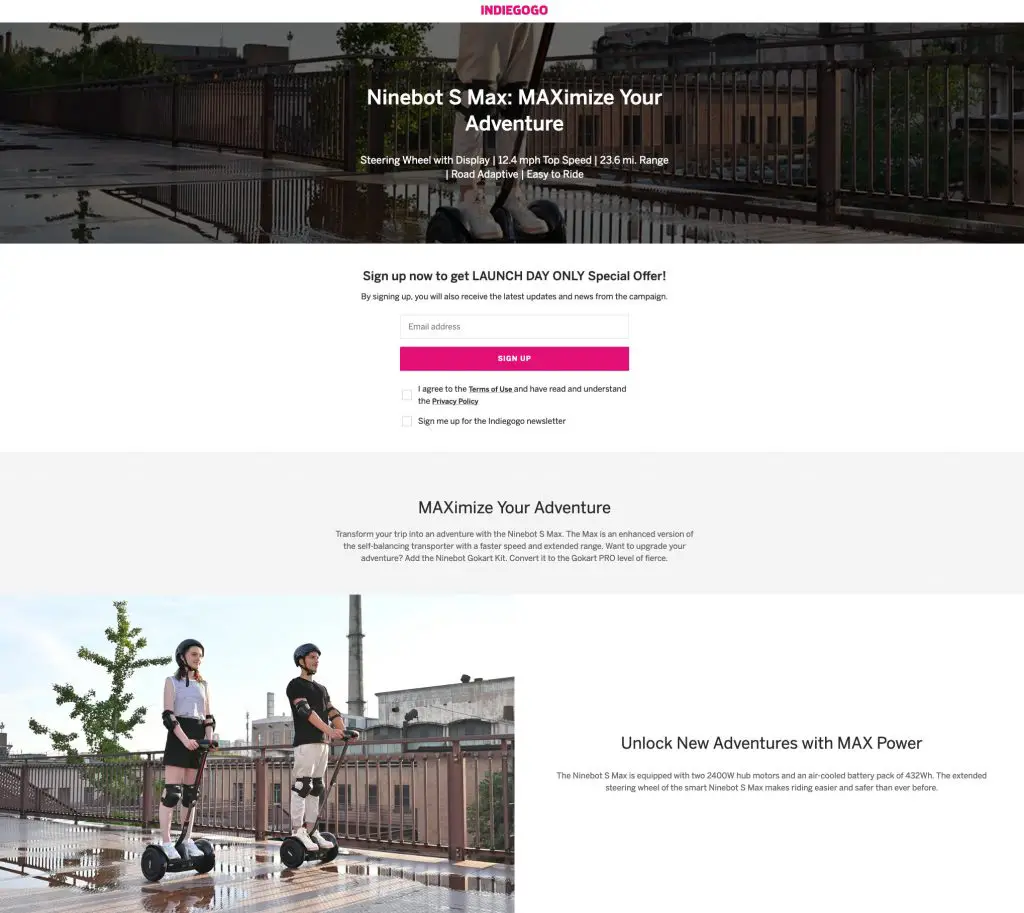 While Kickstarter and Indiegogo might both have convenient built-in page builders, they're far from the only options. Landing page design can be done through a multitude of website builders, marketing platforms or even coded yourself. All you really need is a page to showcase your project and a way to collect emails of people interested.
The following list represents just a few of the sites where you can make a simple webpage with an email signup form:
Now that you've got your beautiful and compelling pre-launch page setup, it's time for the hard part… Finding ways for people to actually see it. 👀
Dedicated sections on Kickstarter & Indiegogo
With no extra effort on your part, Kickstarter and Indiegogo automatically display pre-launch campaigns in their own dedicated category. Kickstarter's Upcoming Projects section currently lists over 1000 projects filterable by category or location. They can also be sorted by newest or most popular.
Upcoming Indiegogo campaigns can be found by visiting any category and clicking the "Launching soon" button on the side.
Considering there's no greater source of traffic for crowdfunding projects than those two platforms, you'll be in good company from the start. It's also worth noting that pre-launch pages are live for up to 6 months (or longer on Kickstarter), meaning you'll have a fair chunk of time to bring in an audience.
CoolBacker coming soon section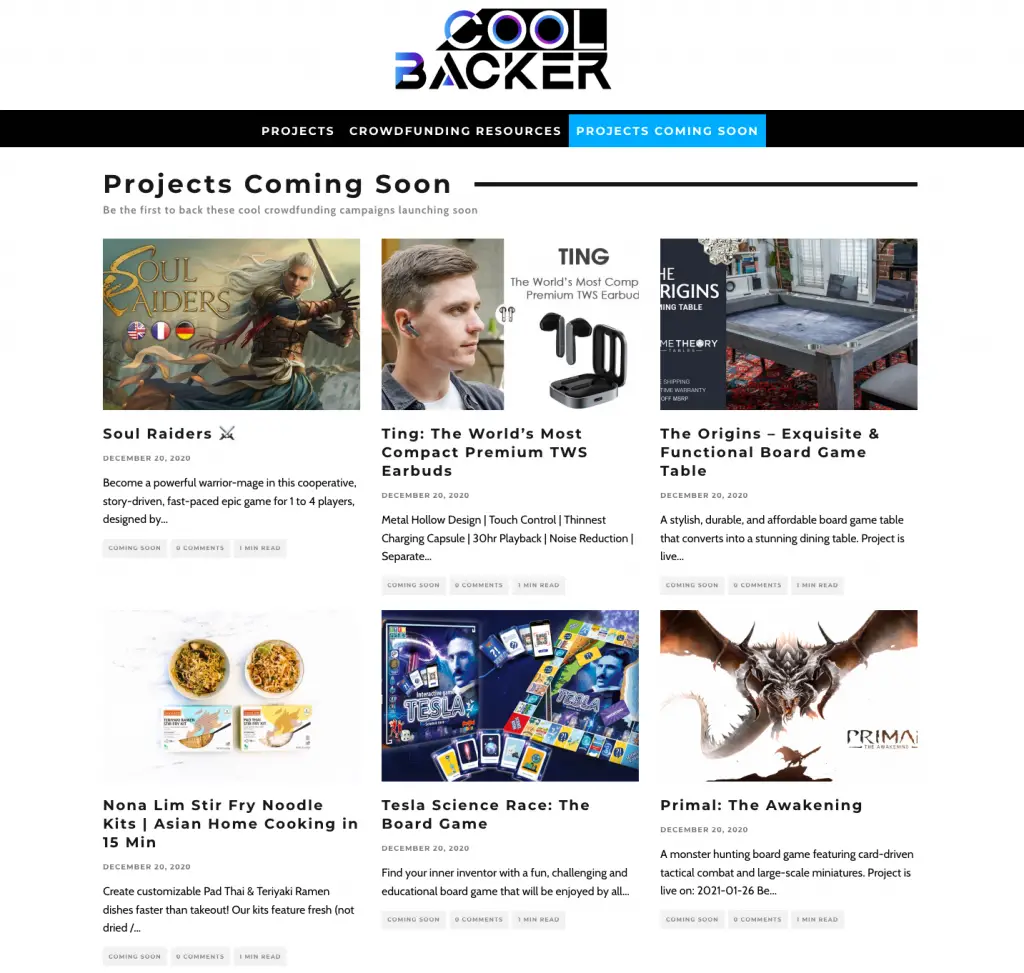 CoolBacker has established itself as a curated hub of amazing crowdfunding projects from across the world. Recently we've launched a Projects coming soon section where curious backers can get a preview of upcoming campaigns before they launch.
Submitting a project is totally free and takes just a few minutes to fill out the following fields:
Project name
Brief description
Project link (this can be your Kickstarter pre-launch page, dedicated landing page or website)
Image
Email address
Planned launch date
Once an upcoming project has reached it's launch date it's automatically removed from the site. That means it's best to list your project early for maximum exposure.
Kick.Agency (board games only)
If you're about to launch a board game on Kickstarter you'll definitely want to check out Kick.Agency. Besides featuring new and interesting tabletop games, they also have a dedicated section for upcoming Kickstarter games.
"Here we present you with news, previews and articles about upcoming Kickstarter tabletop games. You'll learn about what each publisher has in store, what big licenses are getting turned into games and what titles to watch out for in the coming months. To get as many interesting bits as we can, we interview the creators and post exclusive insight into their latest projects."

Kick Agency
To submit a project, creators email them with information about their game and send a prototype for review if possible. If you don't have a prototype, Kick Agency requires a minimum $30 payment to be featured.
Your own website
If you have a website where you plan on sharing your live Kickstarter project, there's no reason you can't share your pre-launch page too. This is especially true if your project is related to the content of your website.
Let's say you've been keeping food blog for a few years and plan on launching a kitchen accessory on Kickstarter soon. This would be a perfect opportunity to share a link to your pre-launch page along with a message about the amazing (and perhaps limited) early-bird discounts people can expect.
But what if you don't have a well-trafficked website? It's still a good idea to set up a simple web page that can link back to your pre-launch page. That way you'll already have something in place when your campaign launches live and you might want a website where people can learn more about your project or company.
Social media
If you've had anything you needed to advertise in the past few years, you're probably sick and tired of experts telling you to share it on social media.
The truth is it's getting harder for brands to gain traction through social media as the platforms are completely oversaturated with marketers. Millions of them. But that itself is the key – don't act like a marketer and don't write like a brand.
No one logs into Facebook thinking, "Gee, I wonder what Banana Republic is up to." They log in to check on people. Once you understand that, it becomes easier to write posts that actually get seen.
Here are some ideas to tastefully spread your pre-launch link on social media:
On your personal accounts, post a link to your pre-launch page and pin it so it stays at the top of your feed. This will keep it visible without you reposting it ever few days (a big no-no).
Create dedicated pages for your soon-to-be brand or product, but don't post content that sounds vague or markety. Your social pages should read like real humans excited to release a great product into the world, not a faceless brand trying to make a buck.
Incentivize pre-launch signups by making it clear to people what's in it for them. What's your early bird pricing? Do you have a limited stock? Will you offer special pricing for the first x number of hours? These are all compelling reasons someone might signup early.
Press release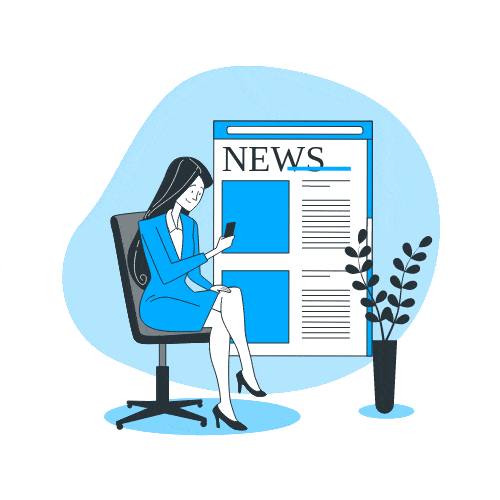 While press releases might be a very old concept, they're far from outdated. There are thousands of news sources that depend on a steady stream of press releases for their daily content. The benefit for crowdfunding creators is that it isn't necessary for a project to be live to submit a press release. It's just as acceptable for a project to be forthcoming or launching at a specific date in the future.
There are many companies out there who will be happy to write and submit a press release for a fee, though you'll find it's actually not that hard to do on your own. The first step is to find a good template you can adapt to your own needs. This page offers a wide range of free templates you can use to get started.
If you'd like some examples, FundBeam has compiled a list of 12 successful Kickstarter press releases that each raised over $1 million.
Finding places to submit your press release can feel a little overwhelming at first. There are tons of submission sites out there and not all are created equal. While there are many free ones, some can charge over $1000 per submission. Here are a few of the more established PR sites and their base prices:
Final thoughts
We've covered a lot of ground here, but if there's one key takeaway it's this… creating a pre-launch page is one of the best things you can do to increase the odds of successfully funding on Kickstarter. Not just a little, but 4x times higher, as we said earlier.
If nothing else, take the extra hour to enable Kickstarter's built-in pre-launch page and see what happens. Just a handful of early backers can cause events to snowball in your favor.
---
Our recommended books