Have you ever tried to capture that perfect photo of your child or beloved pet, only to end up with blurry images or missed moments? Trust me, I've been there too. As a parent and pet owner, I understand the struggle of trying to preserve those precious memories through photography. That's why I'm thrilled to introduce you to Fokis, an incredible Kickstarter project that is set to revolutionize how we photograph kids and pets.
Picture this: it's your child's first birthday party, and the room is filled with laughter, joy, and an abundance of adorable moments. As a doting parent, you grab your camera, eager to capture these fleeting memories forever. But just as you press the shutter button, your little one giggles, moves, and that magical moment slips away, leaving you with a blurry, disappointing image. It's frustrating, isn't it?
The same goes for our furry friends. Whether it's a playful game of fetch in the park or a moment of pure serenity, pets have a way of melting our hearts with their antics. But trying to snap a clear photo of them in action often feels like an impossible task. Their boundless energy and unpredictable movements often result in blurred snapshots that fail to do justice to their unique personalities.
But fear not! Fokis is here to change the game entirely. This groundbreaking Kickstarter project addresses the challenges we face when photographing kids and pets, providing an innovative solution that promises to capture those precious moments with unparalleled clarity and precision.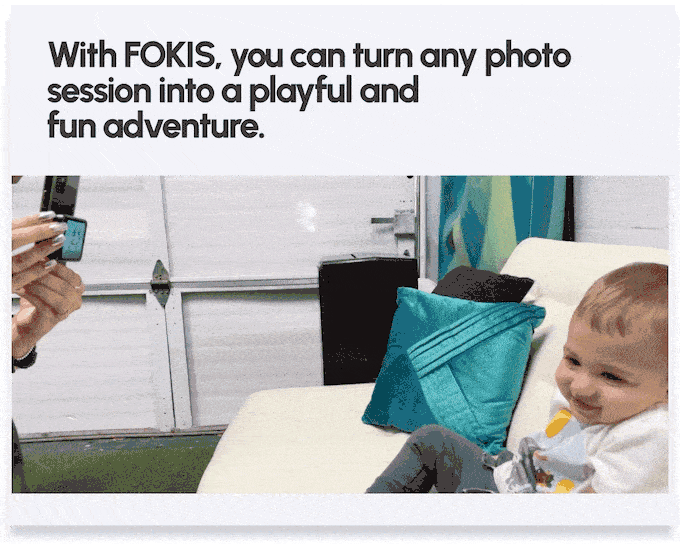 Introducing Fokis: The Game-Changing Solution
Fokis introduces a simple yet effective way to capture attention and create captivating photos of your kids and pets. By attaching Fokis to the back of your phone, you open up a world of possibilities for capturing those precious moments with ease.
Attachment and Setup: To begin, attach Fokis to the back of your smartphone. Its sleek design seamlessly integrates with your device, ensuring a secure and stable connection. Fokis is designed to be lightweight and unobtrusive, allowing you to hold your phone naturally while capturing photos.
Attention-Grabbing Clips: Fokis comes preloaded with a collection of 30-second attention-grabbing clips. These clips incorporate playful sounds, music, and animated visuals designed specifically to engage and captivate the attention of children and pets. Simply select the clip that best suits the situation and watch as it effortlessly attracts their focus, creating the perfect setup for your photos.
Embrace the simplicity and effectiveness of Fokis as it enhances your photography experience. Let Fokis grab attention, track subjects, and empower you to create unforgettable memories with ease. With Fokis, each photo becomes a cherished keepsake, a window into the joy and love that fills your life.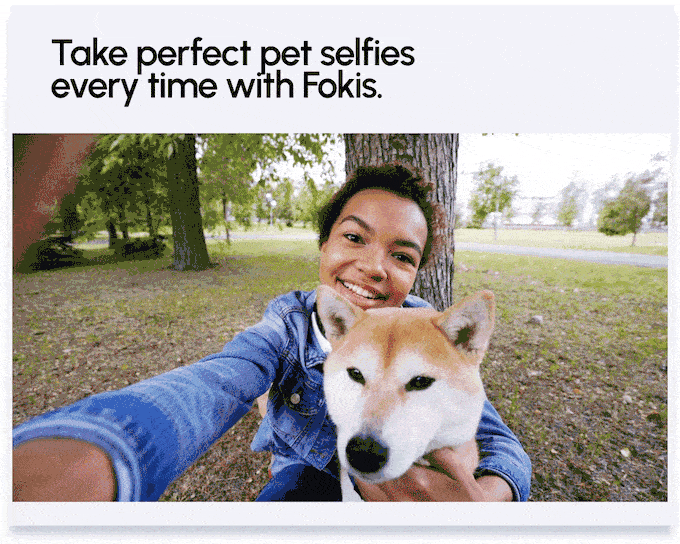 Accessories for Fokis: Enhance Your Photography Experience
Fokis, the innovative device that revolutionizes how we photograph kids and pets, offers a range of accessories to further enhance your photography experience. These accessories are designed to provide added versatility, convenience, and creative possibilities. Let's explore the exciting accessories available for Fokis:
DSLR Accessory: If you're a photography enthusiast who prefers using a DSLR camera, Fokis has got you covered. The DSLR accessory allows you to seamlessly integrate Fokis with your DSLR setup. Attach Fokis to your camera's hot shoe mount and connect it via a compatible cable. Now, benefit from Fokis' attention-grabbing clips, subject tracking, and motion-freezing capabilities while using your trusted DSLR camera. Capture stunning shots with your DSLR, combined with the power and intelligence of Fokis.
POP-Socket Accessory: For those who love the convenience of using a POP-Socket on their smartphones, Fokis offers a specially designed accessory. This POP-Socket-compatible attachment allows you to attach Fokis securely to your POP-Socket, creating a seamless and integrated photography setup. The POP-Socket accessory ensures a stable connection between Fokis and your phone, making it even easier to grab attention and capture those magical moments effortlessly.
Phone Clamp Accessory: For additional flexibility and stability, Fokis offers a phone clamp accessory. This accessory allows you to securely attach your phone, with Fokis attached, to various surfaces such as tripods, monopods, or other camera mounts. The phone clamp ensures a stable setup, enabling you to position your phone and Fokis at the desired angle and height for optimal photography. Capture photos with ease, whether you're shooting landscapes, portraits, or group shots, all while benefitting from Fokis' intelligent features.
Selfie Accessory: For selfie enthusiasts who love capturing self-portraits or group selfies, Fokis has a dedicated selfie accessory. This accessory includes an adjustable selfie stick that securely holds your phone, allowing you to position it at the ideal distance and angle for the perfect selfie. With Fokis attached, you can ensure attention-grabbing moments and subject tracking even when you're in front of the camera. Capture delightful and memorable selfies effortlessly, all with the added magic of Fokis.
These accessories expand the capabilities of Fokis, offering you the flexibility to use it with different camera setups, adapt it to your preferred smartphone accessories, and elevate your photography experience. Explore the various accessories available for Fokis and choose the ones that align with your photography style and preferences. With these accessories, Fokis becomes an even more versatile tool, empowering you to capture stunning photos of your kids and pets in any scenario.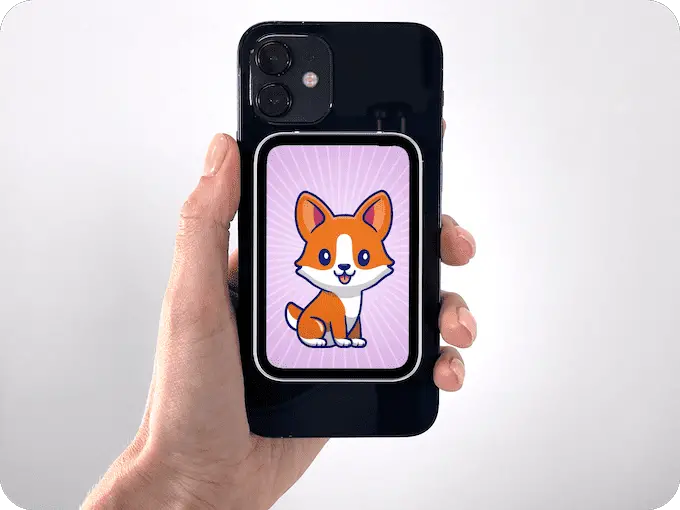 Pledge and Embrace the Fokis Experience
Are you ready to revolutionize the way you capture precious moments with your kids and pets? By pledging your support to the Fokis Kickstarter campaign, you not only gain access to this game-changing device but also become part of a community that values innovation, creativity, and unforgettable memories. Let's explore the pledge options and the incredible rewards that await you:
Pledge US$ 49 or more – LIMITED TIME 48-HOUR OFFER: Get in early and secure your Fokis device at a special discounted price. Pledge now and save 51% off the retail price. For only $49, you'll receive the Fokis device, along with a power adapter and a two-year warranty. Don't miss out on this exclusive opportunity to be among the first to experience the magic of Fokis.
Pledge US$ 110 or more – KICKSTARTER BUNDLE: Take your photography game to the next level with the Fokis Kickstarter Bundle. By pledging $110, you'll receive the Fokis device, a power adapter, a two-year warranty, and a silicone protection case to keep your Fokis safe and secure. But that's not all! This pledge also includes all four Fokis accessories, including the DSLR accessory, POP-Socket accessory, phone clamp accessory, and selfie accessory. With this comprehensive bundle, you'll have everything you need to capture stunning photos from any perspective.
Pledge US$ 200 or more – KICKSTARTER BUNDLE x2: Are you looking to double the excitement and maximize your photography potential? The Fokis Kickstarter Bundle x2 is the perfect choice. Pledge $200, and you'll receive not one but two Fokis devices, along with two power adapters, two two-year warranties, and two silicone protection cases. With this pledge, you'll also receive two sets of all four Fokis accessories, ensuring that you and a loved one can capture memories together in style.
By pledging to support Fokis on Kickstarter, you not only gain access to these amazing rewards but also become an integral part of bringing this innovative device to life. Your pledge helps fund the final stages of production, ensuring that Fokis reaches its full potential and makes a lasting impact on how we photograph our loved ones.
Don't miss this chance to be part of a revolution in photography. Pledge now and secure your Fokis device and accessories at exclusive Kickstarter prices. Capture every smile, the first time, every time, with Fokis by your side.