Dog treats have come a long way. What began as scraps our ancestors fed the wild dogs around the campfire have evolved into scientifically developed blends that pets can't get enough of.
However, not every dog is fortunate enough to live with a doting human. In the US approximately 3.3 million dogs enter animal shelters every year.
That puts a lot of strain on shelter's budgets, and just like with human shelters, feeding that many homeless pets isn't easy.
OnePaw is a new pet brand that aims to add a little heart to the situation. For every bag of their dog treats sold they feed one dog at a shelter for a day.


The heart-shaped treats are more than just a snack too…
Big pet-food producers often forgo ingredient quality to make treats that humans find more attractive. This introduces dyes and artificial preservatives that can irritate pets down the line.
OnePaw treats are free of synthetic ingredients like food dyes, Ethoxyquin, corn and wheat gluten.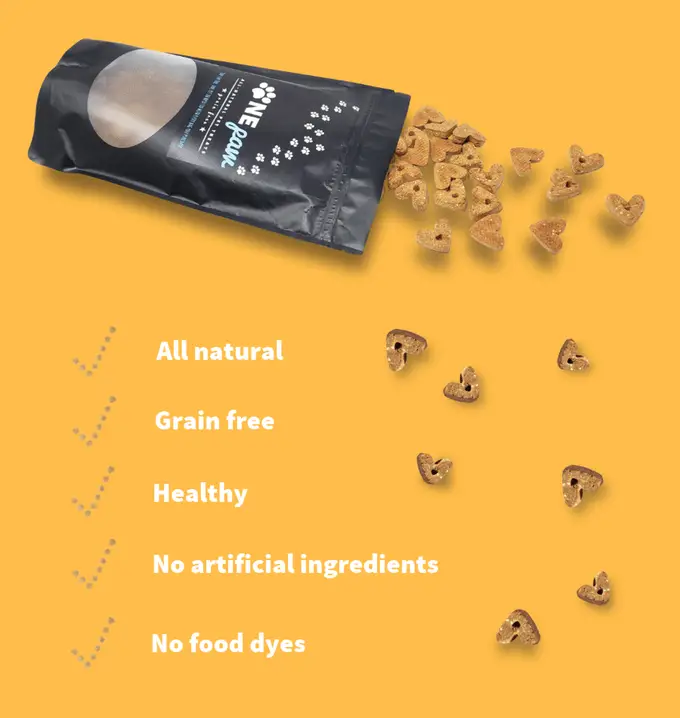 The treats are available in six different flavors that might even make your own mouth water:
Apple Crunch Hearts, Low Fat & Wheat, Corn & Soy Free
Pumpkin Hearts Low Fat & Wheat, Corn & Soy Free
Grain Free Peanut Butter Flavor Hearts
Cheese & Bacon Flavor Chewies
Peanut Butter & Blueberry Flavor Chewies
Barbeque Bone Low Fat & Wheat, Corn & Soy Free
OnePaw's Kickstarter campaign is currently live and one bag of treats can be pre-ordered for the early-bird price of $12.