Lasers are cool. Holograms, barcodes, blu-rays and range finders are just some of the amazing uses possible with laser technology. But as any 5th-grader who's seen Star Wars knows… they can also cut stuff.
You wouldn't be blamed for assuming a laser cutter requires a commercial workshop, an engineer and a five-figure price tag, but that's happily not the case anymore.

Beamo is a new Kickstarter campaign that's combining the power of a laser cutter with the ease and simplicity of a home printer.
Endless possibilites
The desktop-sized device houses a 30W CO2 laser that can cut and engrave an incredible range of materials.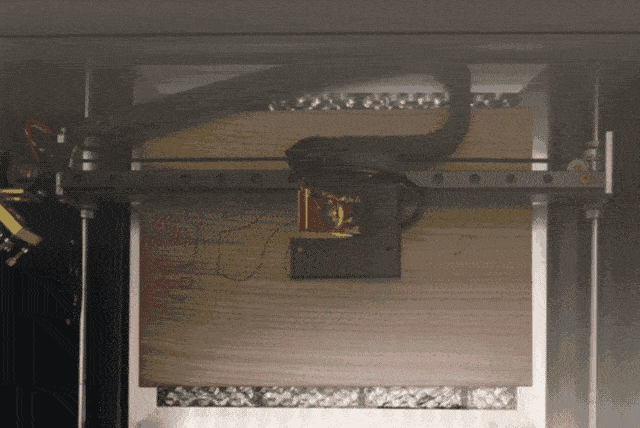 Wood, cardboard, bamboo, leather and acrylic can be sliced straight through. The number of mediums that can be engraved is even larger and includes things like:
Fabric
Rubber
Cement
Glass
Stone
Anode Metal
Stainless Steel
In the same spirit of 3D printers, beamo opens a world of creative (and potentially lucrative) uses. Need some engraved stemware for a wedding? Done. Want a custom message on your dog's name tag? You've got it. Need a leather jacket with your name on the back (who doesn't)? No problem.
Take photos, make photons
FLUX, the company behind beamo, has raised millions on Kickstarter with their other campaigns in the burgeoning maker-space. Along the way they've developed a suite of tools to simplify the process of converting ideas into physical forms.

Thanks to an onboard HD camera, beamo shows a live image of the work area in the machine. Through their Beam Studio software, you can drag images and text onto the feed and instantly see a live preview of how it will look.
There's also Smart Trace software that allows you to snap a picture of a sketch with your phone and convert it into a machine-readable file.
Discounted pricing still available
The future retail price of beamo will be $1,499, but Kickstarter backers can currently snag it for the ultra-early-bird price of $849.
With a funding goal already surpassed by 10x and a history of successful fulfillment, it's safe to say this is a low-risk pledge. Pre-ordered units are expected to ship by March 2020.
---