Does the line "feed me, Seymour" sound familiar? If that Little Shop of Horrors reference rings a bell, chances are you've seen how extraordinary it is when a plant can make its needs known. And while your ficus might not have the same… "appetites" as Audrey II, that doesn't mean feeding it isn't just as important.
Quench is a new Kickstarter project that helps your house plants talk to you. Just stick it in the soil and the device will emit a cute, audible tone when it's time to water.
If you carry the guilt that comes with being a serial plant murderer due to neglect (I know I do 😥) Quench could change all that.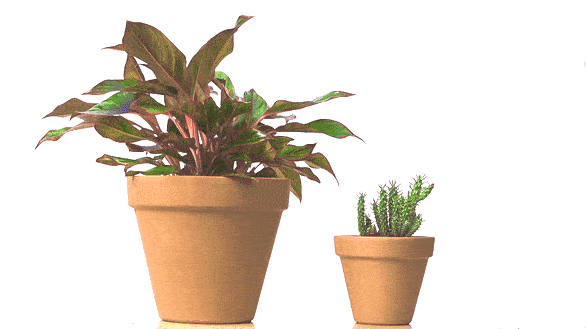 Take the guesswork out of watering
So how does Quench know when a plant needs water? At the bottom of the device's tab are two corrosion resistant sensors that take measurements using something called soil resistivity. That reading is then sent through an "advanced moisture detection algorithm" which figures out if the plant is feeling thirsty.
If the answer is yes a subtle chirp is emitted, letting the nearest human know its time to water.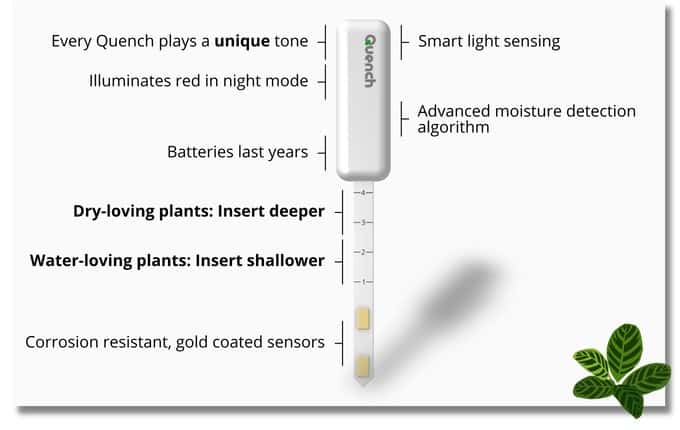 What exactly does Quench sound like? Imagine a gentler, more optimistic, baby microwave beep and you might have some idea. The audio file below is an exact demo:
Another cool feature is that every Quench uses a unique sound. That way if you have several in the same room, you'll know exactly which plant is feeling a little parched. "Oh, honey it sounds like the monstera is dry again – would you mind?"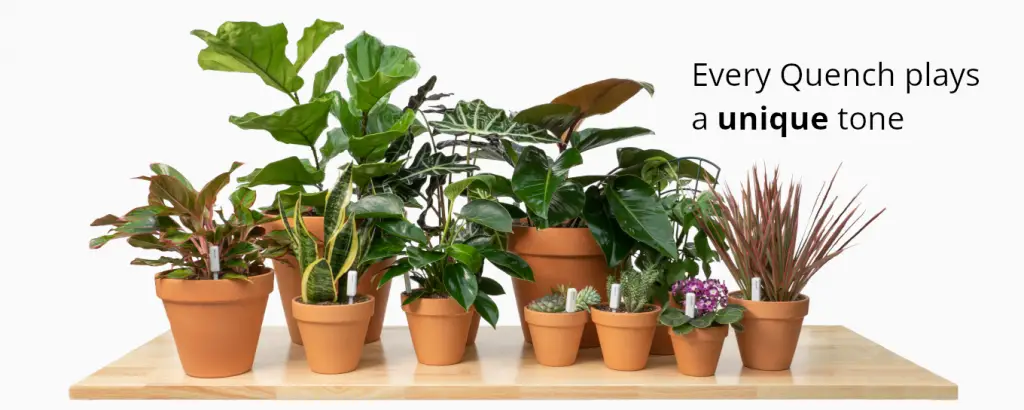 Nobody wants to be woken up by a needy plant, so what happens at night? An onboard light sensor detects when it's dark and switches from audible alerts to a subtle red illuminated light.
This solution works for both sleeping plant parents and nocturnal waterers.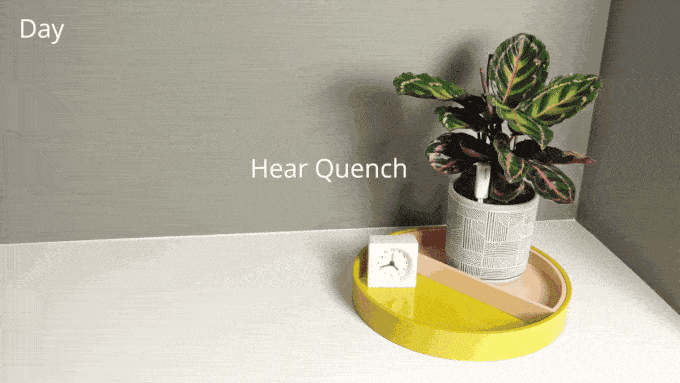 "Humans have an innate connection to plants. We are drawn to them by their beauty and rejuvenated by their ability to return us to nature. We give them water and care and in return they inspire us, add life to our living spaces, calm our minds, and keep us grounded."
A phone-free gadget
When Quench first came to our attention, our first thought was "ugh, another Bluetooth enabled, app-dependent smart device", but we were happy to be proven wrong. The device is 100% phone and app-free. In their words:
"In a world of non-stop mobile notifications, we didn't want your plants to get lost in the noise. Quench is perfect for all plant lovers – not just the tech-savvy ones. Quench is so easy to use that even kids can get involved and learn the responsibility and joys of caring for plants."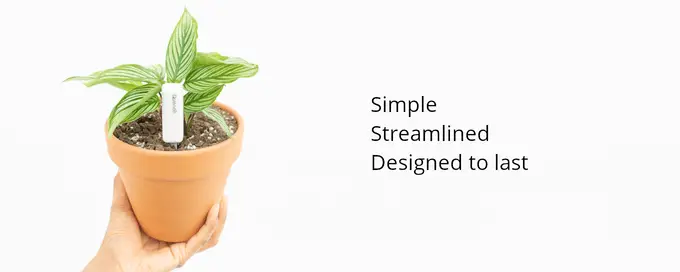 How to order Quench
The Kickstarter campaign for Quench has already skyrocketed 3x past their funding goal. If you'd like to jump in on the early bird price, there are currently still some units available. For $27 you get two regular sized Quenches for pots 8″ or shorter. For bigger plants you can select the large Quench 2-pack for $31.
Bigger bundles are available at higher reward tiers.
Pre-orders are estimated to deliver October 2021.