According to Consumer Reports, cooking related fires and burns top the list of kitchen injuries each year. Fires involving cooking equipment account for two of every five home fires reported.
One way to help prevent accidents is quick access to protective oven mitts and pot holders, which are often buried in drawers and pantries.
MeoMitt is an ergonomic silicon oven mitt that's designed to always be in easy reach. Embedded magnets let it stick to things like fridges, range hoods, toasters and more.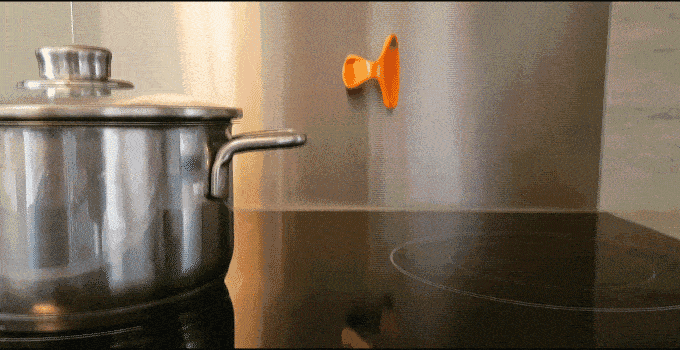 The unique shape is just enough to protect your fingers from hot surfaces without requiring two hands to put on.
The anti-slip food grade silicone can withstand temperatures up to 464℉. A great feature considering traditional cloth pot holders are actually one of the first things to catch on fire in an accident.
MeoMitt has other uses beyond holding hot stuff – the magnets are strong enough to act as a towel holder, and the added grip comes in handy for those particularly tight jars and cans.
Early bird pricing still available
At the time of writing there are still MeoMitt packs left at the early bird price of $16 for two. You can also get a double pack of four for $29.
MeoMitt has already reached their funding goal and pre-orders are expected to ship by September 2019.